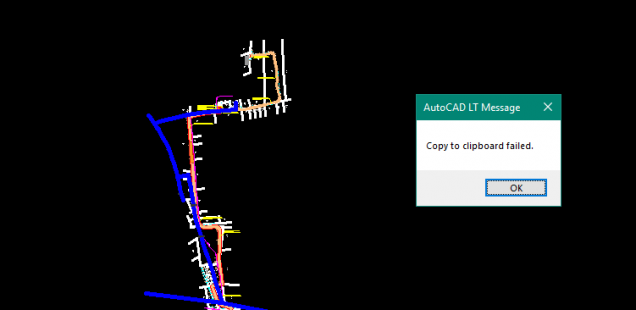 "Copy to clipborad failed" – iliti "mrzim Custom/Proxy Objects"
Update 18.11.2020.
postoji dodatak za pune verzije AutoCAD koji to rješava na lakši način:
https://apps.autodesk.com/ACD/en/Detail/Index?id=1498235021060360128&appLang=en&os=Win32_64
a za sve ostale smrtnike i dalje vrijedi "staro" rješenje:
---
Dakle, netko vam je poslao DWG sa nekim crtežom koji vama treba – u većini slučajeva tražili ste neke Uvjete javnopravnih tijela i začudo dobili natrag DWG file sa trasom (vodovoda, plinovoda…), a ne crno bijelu kopiju s ručno ucrtanom trasom – po mogućnosti markerom.
I sve što želite je samo kopirati traženu trasu u svoj projekt – ali ne, jer zašto bi nešto bilo jednostavno! Umjesto dvije jednostavne naredbe: 1. Copy i 2. Paste to original coordinates, vama iskoči poruka "Copy to clipborad failed".
I onda krene redom – provjeri zaključane layere, probaj explode, probaj na drugom kompu….
I da, možeš to ubaciti kao XREF – ali imati XREF zbog 15 linija zbilja nema smisla. A rješenje je jednostvno:
…

Start a new clean drawing, such as acadiso.dwt.
Use INSERT and insert the affected file into the clean drawing.
Test the COPYCLIP command.

…
I to je to….
Razlog – DWG ste dobili iz najvjerovatnije Civil3D-a ili nekog sličnog "punokrvnog" programa koji koristi "Custom/Proxy Objects" – ili u prijevodu – nekakav dodatak koji zadrži dodatne informacije koje nisu standardne za AutoCAD poput vrsta i promjer cjevovoda, vrsta kabela i sl. Nešto što njima u bazi podataka / GIS-u igra ulogu, ali vama komplicira život.
Pa eto, drugi put ne gubite živce i ne psujte mater referentu nego napravite tri kratka koraka. Psovanje zadržite kad vam jave da nemaju uvjete ali svejedno traže potvrdu projekta – i to naravno naplate!!!